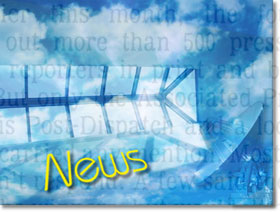 04.06.2005

hase 1 of our extension works is coming to an end: the building of the new premises accommodating our staff's bathroom and canteen is almost completed. We also had a new silo built, offering a bigger capacity (150m3).
We will soon launch phase 2, i.e. the building of a showroom. We will keep you posted on the progress of its construction and will of course invite you to come and discover –or rediscover– our complete range of products in that both customer-friendly and functional showcase. Needless to say we will insert pictures detailing the progress of the extension works under this section!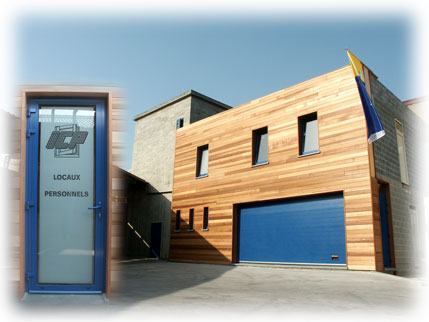 New "personnel only" premises (bathroom, canteen) and new silo of 150m3

06.05.2005

n exceptional offer not to be missed! In agreement with the designer Aliplast, we propose you now our aluminum window frames in mono- or bicolor for the price of a white finish!
This offer applies both to smooth as well as textured finish window frames. The latter refers to a type of lacquering giving the aluminum a "textured" aspect. The main advantage of this type of finish is that it provides a remarkable resistance to scratches and stains. According to the manufacturer, it is due to replace the traditional smooth lacquer finish.



01.05.2007

ursuing its investment policy, ICP has just completed the installation and setting up of a brand-new fully-automatic production line. Code name of the machine: SCM WINDOR 100 L. This state-of-the-art machining line (controlled by a PC running under Windows XP) handles the tenoning, the drilling of drain holes, of handles, mortises, in short of whatever machining needed for the hardware. The tenoning line incorporates routers for drilling the cylinder holes and for cutting the glass beads at 45°.
This machine allows for working simultaneously on 2 pieces of wood. A flipping system integrated between the tenoning and the profiling tables turns the piece over before it is loaded in the profiling machine (4 sides).
An extracting table allows to time and stock the finished pieces at the end of the line, saving any unnecessary move from the frame machine operator. The operator feeds the machine with a trolley containing 60 pieces (i.e. 40~60 minutes of continuous and 100% automatic production), chooses the file, launches production and simply monitors the machining process. The production list is predetermined, as the loading order of the trolley. A second trolley allows for preparing the next list while the machine is operating. We will produce our first samples very soon.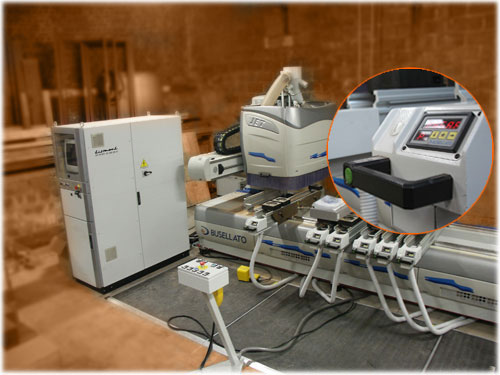 01.15.2006
hanks to this new working center, we can now perform virtually all borings, curves, mouldings, grooves, etc. To make it short, we can give shape to the most eccentric projects. One of your customers is requesting a decorative window lattice, a specific boring for a special handle, a cat-flap or a spyhole? We can do it for you with utmost care and optimal precision (1/10 of mm). Just a few clever settings and the job is done!
This sophisticated machine is controlled exclusively by a tailor-made software running under Windows 2000. This computerized control enables us to carry out all of your projects with utmost ease (even one-time borings). We installed this new working center at the end of last year and are currently getting to know its programming and use. We will be ready for production from early April 2006 and will be then able to supply you with various samples available on request.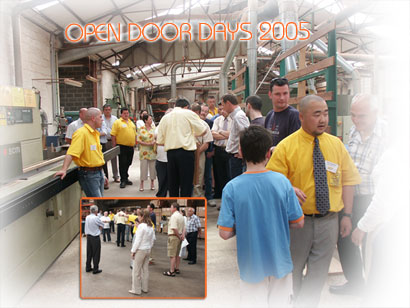 06.04.2005

e would like to thank all the people that paid us a visit on the occasion of our open door days on May 28th and 29th. Especially since the very fine –and quite atypical for Belgium– weather we had on those days was not really in our favor.
Still, several dozens of you were present to watch our production demo (wood & aluminum window frames), a solidity test –that proved very conclusive for our fake burglars had to give up– and share a drink with us. We were very pleased to answer all your questions and to get to know you a little better. Thank you all and see you soon!