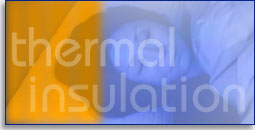 Given the perpetual rise of energy costs and more particularly of domestic fuel, resorting to this type of glass is a simple matter of good sense. Energy savings have more than ever a determining influence on your customers' choice.
Thermal insulation glass addresses the need for an energy-sparing home and is particularly suited for the construction and renovation sectors. It should be stressed that a reduction of 0.1W/m2K of a glazing's K value accounts for a saving of 1.2 liters of fuel per year and per square meter of glass surface. Thus, the mere replacement of a simple glazing (5.8) by an efficient thermal glass allows for an energy saving of more than 40%... as well as a reduction of the pollution brought about by domestic heating.
Besides the energy saving, this type of glass contributes to improving domestic comfort. It holds back 60% of the UV rays and thus slows down the fading of colors inside the house. By its nature, this glazing withholds heat inside the house by reducing the movement of cold air. As a result, the impression of cold air near windows tends to disappear and the risk of condensation is substantially reduced.
| | | | |
| --- | --- | --- | --- |
| | | | |
| | | The K value stands for the speed at which heat exits a building. The lower this value, the better the insulation – and thus the efficiency. | |
| | | | |