urable, weather-resistant, maintenance- and treatment-free, ... Aluminum frames clearly offer a series of advantages over wooden frames, which undoubtedly accounts for their growing popularity.
The Visoline and Imperial models we propose you bear the signature of ALIPLAST, a specialized maker reputed for the quality of its products. These aluminum window frames are up to each of your expectations in terms of quality and reliability. Should you need it, we can of course supply you with other ALIPLAST models.
Naturally, we do not limit ourselves to standard frames: we will be glad to execute any custom order.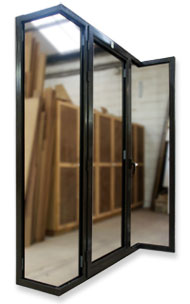 Custom shop window frame
You will find more concrete examples under Portfolio. In case you have questions, you know where to click!


Aluminum

Our ALIPLAST aluminum frames

Specifications (.PDF)

Specifications (.PDF)

System (depth 51mm) for windows and doors with thermal break

1. Description:
Standard series of profiles with thermal break, used for most traditional door and window applications in houses and industrial buildings.

2. Applications:
– Fixed windows for single or double glazing
– Single or double sash side-hung open-in or open-out windows
– Tilt and turn windows
– Outward opening top-hung windows
– Pivot windows (horizontal or vertical)
– Commercial and residential single or double doors (residential doors are open in only)
– Tilt and slide windows with appropriate hardware
– Possibility to bend the profiles for applications such as: round windows, pointed and basket arches
– Rounded glass beads are available for a Soft-look

3. Materials:
– Aluminum: AlMgSi 0.5 Type 6060/6063 T5 in condition F22 (according to NBN P21-001 and DIN 1725)
– Tolerance according to DIN 17618
– Sealings: E.P.D.M. according to DIN 7863, TV 110, NFP 85301, ISO 3994. Tested and approved according to an artificial ageing test of "Plexi glass" combined with vulcanised rubber.
– Thermal break: polyamide strips PA 6.6.25% reinforced with glass fiber.

4. Finishing:
– Electrostatic Powdercoating: according the guidelines of A.P.A.-Qualicoat in most of the current RAL-colors. The composed profiles (with thermal break) can be coated with different inner and outer colors ("DUAL-Color").
– Anodisation: in satin or bronze colors with EWAA/EURAS-Qualinod quality label
– Metallic Structure coating: the third generation and the best quality powder coating.
– All coatings come with the normal 15 year MARINE guarantee and Qualicoat certificate.

5. Thermal break:
The profiles consist of 2 aluminum extrusions which are separated from one another by polyamide strips PA 6.6.25 reinforced with glass fiber. A gluing thread, rolled and pushed in together with the thermal break profile ensures a strong adhesion after melting and flowing, when the profiles are heated in the hardening furnace.

6. Details:
– Built-in depth: outer frame 51 mm, sash 60 mm
– Glazing rebate: 22 mm
– Hardware rebate: according to the current European sizes (EURONUT)
– Sealings: centre seal and inside stop rubber
– Glazing: from 4 up to 37 mm
– k-value: 3,110 W/m2K (Rahmenmateriaal-Gruppe 2.2)
– Various forms of hardware and finishing available
– Windows can be joined with variable couplings or standard fixed couplings (such as 90° and 135°) using profiles with thermal break
– Adapter profiles for roller shutters
– Sill adapter
– Window sill profiles in various depths available

7. Performance level according to STS 52.0:
– Mechanical resistance to wind: PV3
– Air transmission: PA3
– Watertightness: PEE 1000 Pa

8. Performance level according to UEATC:
– Mechanical resistance to wind: V3
– Air transmission: A3
– Watertightness: E4



Multi-chamber system (depth 65mm) for windows and doors with thermal break

1. Description:
This series of high quality profiles with thermal break are applicable where the more severe standards for acoustic and thermal insulation are required. The profiles for this series are constructed of 2 hollow extrusions separated from one another by polyamide strips PA 6.6.25 reinforced with glass fiber. An additional radiation barrier in the form of a strip in the same material provides the 4-chamber system.

2. Applications:
– Fixed frames for single or double glazing
– Single or double sash side-hung open in windows
– Tilt and turn windows
– Tilt in only windows
– Tilt and slide windows and doors with appropriate hardware
– Flush, single or double sash doors, open in
– Swing doors (double action)

3. Materials:
– Aluminum: AlMgSi 0.5 Type 6060/6063 T5 in condition F22 (according to NBN P21-001 and DIN 1725).
– Tolerance according to DIN 17618
– Thermal break: polyamide strips PA 6.6.25% reinforced with glass fiber.
– Radiation barrier: polyamide strips PA 6.6.25% reinforced with glass fiber.

4. Finishing:
– Electrostatic Powder coating: according to the guidelines of A.P.A.- Qualicoat in most of the current RAL-colors. The composed profiles (with thermal break) can be coated with different inner and outer colors ("DUAL-Color").
– Tolerance according to DIN 17618
– Anodisation in satin or bronze colors with EWAA/EURAS-Qualinod quality label.
– Metallic Structure coating: the third generation and the best quality powder coating.
All coatings come with the normal 15 year MARINE guarantee and Qualicoat certificate.

5. Thermal break:
The profiles consist of 2 aluminum extrusions which are separated from one another by polyamide strips PA 6.6.25 reinforced with glass fiber. A gluing thread, rolled and pushed in together with the thermal break profile ensures a strong adhesion after melting and flowing, when the profiles are heated in the hardening furnace.

6. Details:
– Built-in depth: outer frame 65 mm, sash 74 mm
– Glazing rebate: 22 mm
– Hardware rebate: according to the current European sizes (EURONUT)
– Sealings: with extruded E.P.D.M. rubbers
– Glazing: from 18 up to 51 mm
– k-value: 2.6 W/m2K (Rahmenmateriaal-Gruppe 2.1)
– Various forms of hardware and finishing available
– Possibility to bend the profiles
– Rounded glass beads are available for a Soft-look
– Windows can be joined with variable couplings or standard fixed couplings (such as 90° and 135°) using profiles with thermal break
– Adapter profiles for roller shutters
– Brick frame profiles
– Window sill profiles in various depths available

7. Performance level according to STS 52.0:
– Resistance to wind: PV3
– Air transmission: PA3
– Watertightness: PEE